Iranian program "Radio and TV with v1.8" Android Online – New Version – User Request
Radio and TV is an excellent and extremely beautiful software of Iranian programmers for Android , with which you can have more than 75 cases of foreign, provincial and religious networks along with radio networks in one place, and Easily watch TV channels or listen to your favorite radio channels on the Internet. This software, which works with Wi-Fi, Hamrah-e-Aval, Irancell, Rytl, etc., displays TV networks in different qualities for you and brings you the experience of the best TV program on your Android phone . If you are traveling and you like to have all the TV channels with you, we offer you the "Mobile TV and Radio" application, which can be the best with a simple and Persian user interface.
Some features and capabilities of the Android mobile TV and radio application:
* Provide a complete list of TV and radio networks in separate groupings
* Ability to easily play all networks with a dedicated player in the program without the need for a special program
* Ability to broadcast channels with different qualities; Even in some up to 8 different qualities
* Display complete information about the receiving frequency and contact information
* Quality filter for network list Convenient for quick access to network list
* Other features such as marking healthy or discontinued qualities , quick search and favorites list
The mobile radio and television application is provided for free, and we at Usroid provide you with the latest version at the request of our dear users with a direct link. Read more to see the list of TV and radio networks.
Changes in version v1.8:
* Add 43 new qualities of TV with the ability to determine the automatic quality
* Add 28 new qualities of the radio with the ability of automatic quality determination
* Add Sahar 3 network with 4 broadcast qualities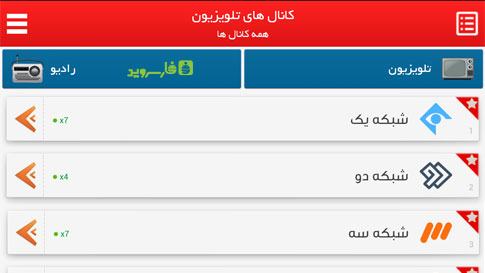 List of TV networks:
Network One, Network Two, Network Three, Network Four, Network Five, News Network, Education Network, Documentary Network, Your Network, Market Network, Show Network, Sports Network, Dynamic Network, Watch Network, Health Network, Quran and Education Network and Nasim Network
List of provincial networks:
Sahand TV, Network of West Azerbaijan, SABALAN TV, the network of networks Elam, network Bushehr, network worldview, network KHAVARAN, network Khorasan Razavi , network Atrak, network Khuzestan, Network illumination Network Semnan, network, our network of Fars, the network of Qazvin, Noor Network, Kurdistan Network, Kerman Network, Zagros Network, Dena Network, Green Network, Baran Network, Aflak Network, Tabaristan Network, Aftab Network, Persian Gulf Network, Sina Network, Taban Network, Alborz Network, Abadan Center TV, Mahabad Center TV And Kish local network
List of overseas networks:
IFilm, Jam Jam 1, Jam Jam 2, Jam Jam 3, Press TV, Al-Alam, Sahar 1, Sahar 2, Al-Kawthar and Hispan TV
List of religious networks:
Labik Internet TV, Razavi Internet TV, Velayat World Network , Marja'it Network, Astan Quds Kazemin, Masjid al-Haram, Masjid al-Nabi, Shrine of Imam Reza (AS), Shrine of Imam Ali (AS), Shrine of Imam Hussein (AS) AS) and the shrine of Hazrat Abdul Azim (AS)
List of radio networks:
Radio Iran, Radio Javan, Radio Varzesh, Radio Salamat, Radio Namayesh, Radio Tehran, Radio Ava, Radio Payam, Radio Farhang, Radio Radio, Maaref Radio, Radio Goftogo, Radio Eghtesad, Radio Nova, Radio Fasli and Radio Ketab
List of provincial radio networks:
Radio Tabriz, Radio Urmia, Radio Ardabil, Radio Isfahan, Radio Karaj, Radio Ilam, Radio Bushehr, Radio Shahrekord, Radio Bojnourd, Radio Birjand, Radio Mashhad, Radio Ahvaz, Radio Zanjan, Radio Semnan, Radio Zahedan, Radio Radio Zahedan, Radio , Qom Radio, Sanandaj Radio, Kerman Radio, Kermanshah Radio, Yasuj Radio, Gorgan Radio, Rasht Radio , Khorramabad Radio, Arak Radio, Sari Radio, Bandar Abbas Radio, Hamedan Radio, Yazd Radio, Abadan Radio, Dezful Radio, And Radio Mahabad
List of foreign radio networks:
Ashna 1, Ashna 2, Ashna 3, Dari Radio, Nedaye Islam Radio and Velayat Radio