ROEHSOFT RAM Expander (SWAP) v3.76 Patched – Increase RAM memory to run heavy games on Android
patched and completely healthy version – user request
ROEHSOFT RAM Expander is one of the most powerful, best and most popular RAM optimization applications for the Android operating system, by using it and having it on your Android smartphone or tablet , you can easily increase the RAM of your phone! You may have had the problem many times that by running several programs or games at the same time, your phone speed will be very slow and most of the time it will hang; The SWAP app helps you use SD memory to help you run heavy applications and dramatically increase your mobile RAM.
It is good to know that most Android apps and games require at least 1 GB of RAM and your phone may have 512 RAM; In such cases, by running them, the program or game will be closed immediately, unwanted and automatically; The solution of the upcoming application is that by running it, you can easily increase the RAM of your phone to a high level!
Some features and possibilities of ROEHSOFT RAM Expander Android application:
* Ability to free SD card memory for use as RAM
* Ability to increase the RAM of your smartphone or tablet up to 4 GB!
* Having a dedicated widget to put on the home screen
* Having a simple environment very easy to use and operate by amateurs
* No restrictions on SWAP partitions
* Having various functions of auto-start , display of detailed information on the application page and so on
ROEHSOFT RAM Expander application is currently sold in the Android Market at a price of $ 8.34 and has a score of 4.2 out of 5.0 , which we provide the latest version of it in Usroid today for free and with a direct link.
Note: To use the ROEHSOFT RAM Expander (SWAP) application, consider the following:
– It is recommended to use the Optimal Value option to ensure.
– Your SD card must be class 8 and above
– Disable the application before connecting the phone to the computer via USB to display the memory on the computer
Note that: In the following, we have put some questions and answers for you that can be useful?
Changes in version v3.76:
* Update the support function of Android 6 and fix bugs and problems of the program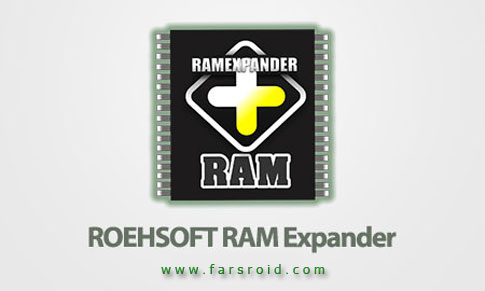 Question 1: Can this program be used on all kernels?
Answer: Yes, this program works well on all kernels, including the Devil kernel.
Question 2: Does our memory card have to be partitioned to use the program?
Answer: No, there is no need to do this.
Question 3: Do I need to root my phone to use ROEHSOFT RAM Expander?
Yes, your device must be rooted .